Plastic Chic
Nowadays, Plastic Bags Have Become A Plague of The 21st Century, But Could Anyone Imagine That Before It Was The Most Desirable Object in The USSR?
The Soviet Union was the first in the world to send a man into space, to penetrate into the bowels of the earth deeper than all, to lay the foundation for the world transplantation, to launch a supersonic passenger jetliner, and also took participation in the development of many scientific and technological breakthroughs. Nevertheless, in pursuit of innovations and longing to way out in front on the world stage of achievements, the USSR didn't pay due attention to their citizens' household needs by neglecting standard necessities and simple wishes. So, a plastic bag, representing as much value as a synthetics in the manufacture of H&M collections, suddenly turned into an object of worship, like a mini Jacquemus bag for influencers and street-style stars.
While the entire world is in a desperate search of ways to protect the environment and tries to fight against plastic that's become the scourge of the new decade, almost eighty years ago few people guessed that the development of polythene – a material obtained by high-temperature oil refining – will turn into a global problem. The official life of polythene in domestic lifetime begins in the 40s in the USA when DuPont becomes the first company who pack a bread in a transparent glossy packaging designed to play just a functional role. And let the new product to be rare at first, this feature didn't make it valuable – it was thrown out after usage with no regret, as it usually happened with ordinary rubbish. Pampered with all sorts of worldly goods Europeans and Americans of the 20th century treated polythene as given, household commonness, and found values in more significant and expensive objects. Meanwhile, people who lived behind the Iron Curtain after World War II generated a trend for mass hysteria in honour of a… plastic bag.
Those who were born in the USSR know how great was a value of things which were imported from abroad. And it's not only about their fabulous cost. In years of a total lack of goods, when demand was many times higher than supply, and the supply itself didn't distinguish with the unique design, attractiveness, and individuality, any noteworthy item turned into an absolute wonder and an object of common desire. Mostly, this fate befell relatives who had permission to travel outside the country, sailors, or spivs making money on the illegal sale of exclusive imported goods.
The first and foremost piece of the common adoration was jeans that have become a symbol of a Soviet deficit and was sold at the price of an ordinary citizen average salary (90-100 Soviet rubles). As well as chewing gums, badges, vinyl records – all of these things symbolised enculturation to foreign countries – enticing, prosperous, and unavailable at the same time. By the end of the 70s plastic bags recharged the list of import treasures, when sailors began to bring them in illegally in small batches in 1979, tying up rustling polythene precious inside their trouser legs. During that times, spivs, who used to buy up from sailors and foreigners "outlandish" things, were considered to be nearly the principal master criminals against moral and financial Motherland pillars, making trouble in the head of upstanding citizens with prohibited foreign goods. If spivs were caught, they would expect a severe punishment worthy of serial killers, criminals, and traitors to their country, not regular sellers – from long prison sentences to the death penalty.
Those who were born in the USSR know how great was a value of things which were imported from abroad.
Both in the modern world obsessed with excessive consumption, and in the USSR, the cult of things reigned, but of things that were labelled with cherished "Made in…" – mean, produced outside of the Soviet Union. During that time, all the accustomed things that can be found in every store and bought cheaply, were perceived as a symbol of its owner's high status and financial prosperity. A miserable pack of imported cigarettes was tenderly stored; jeans were worn infrequently – for special occasions; vinyl records were buried under layers of dust because of no one ever listened to them and carefully conserved.
In the land of the Soviets governed a severe restriction to have an opinion that would differ from the majority's opinion, express it out loud, and stand out in a crowd. The government necessitated a unified way of thinking from its nation; the free art was under an interdiction, the only government-approved literature was allowed to be read; all the personas, who aspired to stand out in a crowd, were scoffed, judged, and condemned, intending to knock the Western "dope" out of people's heads and set them on the path of prudence. However, it didn't discourage fashionmongers and ordinary civilians – no matter how distant they were from the fashion world, they aspired to enliven their blue and boring wardrobe – seek for ways to get a tidbit from abroad, where the sky is bluer, the life is freer, while self-expression with flamboyant and salient clothes wasn't blamed by the government. Therefore, when a polythene bag entered the Soviet people lives, it gave birth to a mass hunt for it. Glossy, multicoloured, with appealing pictures on it – it turned into a new, the most affordable accessory replacing women's purses, men's briefcases, and students' of all genders and ages backpacks, in which they weren't ashamed to carry their books.
Before the plastic bag appeared in household use, the product packaging culture in half-empty Soviet shops seemed to be copied from modern hipsters attitudes. Unlike polythene, there was a real surplus of wrapping paper in the USSR – dense, almost cardboard, of unremarkable grey-sand colour – it disposed in huge rolls on the counters and was always at hand to a salesperson. That's exactly the thing, which no one ever got regrets about or preserved: a huge piece of paper was generously cut off and used to wrap everything – from sausages to underwear; then it was tied up crosswise with a rope. Isn't it a true hipster dream, who accustomed to wrap presents and goods in decorative wrapping paper that look so photogenic on an Instagram photo?
But Instagram wasn't even invented in those days, while paper just had a functional role.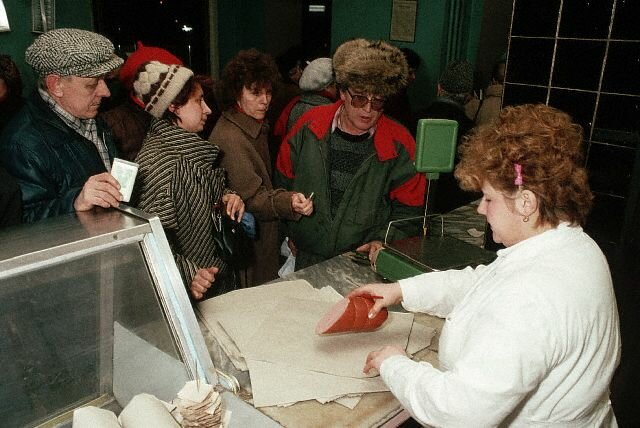 The standard paper packaging was soon replaced by avos'ka (a string bag) – a humble definition of a Soviet household – a simple hand-made mesh woven from synthetic yarns or nylon. This genuinely brilliant and unique invention was so much loved by Soviet people – first of all, for functionality – that became an identification of hope for the unexpected manna fallen from heaven.
String bags didn't play a part as a fashion accessory themselves – it's like replacing Bottega Veneta's dumpling-bag with a plastic one nowadays – yet turned into loyal companions to anyone, who paid visits to the shop at least once a day. These string bags appeared to be surprisingly unpretentious to wear, were easy to wash and dry, fitted in any lady's purse, coat or trouser pocket, didn't take up much space and were extremely durable. Imagine, just one avos'ka could efficiently carry a whole watermelon, one kilo of potatoes, two bottles of milk, and a bread loaf; the only problem occurred the handles – the weight left calluses and marks on the palms. Though, inventive people eliminated this disadvantage by attaching soft transparent tubes to the handles.
Millennials and Gen-Z-ers can't even imagine a pure rapture of an average colourful plastic. Grown-up on a clear awareness of global environmental issues, they already began to change their minds towards consciousness and use canvas bags instead of plastic ones, which are neatly and pretentiously called "shoppers".Their prototype was a feed bag that replaced avos'ka after a while. Usually, they were made out of burlap, while particularly talented housewives sewed them themselves embellishing with embroidery, patches of all kinds, multicoloured badges, making even an unremarkable fabric unique and distinguishing piece of a daily routine.
And later, in the late 70s, the Soviet Union was swept by a polythene wave that covered people, who weren't accustomed to peculiar stuff, and let no one remain indifferent. Glossy, shining, with printed pictures – plastic bags became a piece to hunt for, a new chic, which found its place on a list of must-haves alongside with Wrangler jeans and a rare pair of Adidas sneakers. Beautiful and vivid pictures quickly turned into a common subject of hysteria and told a story about the abundant life of such a fascinating West, which mere citizens behind the Iron Curtain could only dream of.
Plastic bags were chased all around the Soviet Union, people ask their relatives to bring the, from abroad, bought them up from black marketeers and gipsies – who quickly found out about the new trend and used it for their benefits – trading in the metro at exorbitant prices for those times. Branded bags with ads of Marlboro and Martini, Ferrari, Ford, Mercedes cars, springy buttocks clung in Montana jeans, and signature Adidas stripes were considered especially fashionable among folks. An exceptional chic was submitted by a bag with American Rodeo cowboy that many boys – and not only boys by age indicators – aspired to have, expecting to become the coolest and fashionable guy in the district, no matter how nerdy he seemed before. The most desirable and expensive packages were those with the images of worldwide famous and local celebrities: ABBA, the famous four – The Beatles; Soviet singers: Vladimir Visotskiy, Alla Pugacheva, Michael Boyarsky. Ultimately, the plastic bag gained an uncharacteristic and even bizarre feature for the Western people – they got to become reusable. Evolved into a fashion accessory, the plastic bag entered people's mundane lives and started performing functions that weren't included in it before; instead, it became an object of demonstration of personal welfare, affluence, and self-importance – first of all, for friends, colleagues, neighbours, and anyone, who just passes by and see you for the first and last time. Everyone, who carried a tailored piece of polythene, experienced that exalting feelings of pride and superiority, but – meanwhile – never having a clue of the meaning of words or letters written in a foreign language, and leaving them as a mystery.
Seems like madness, right? But, if we draw an analogy with contemporary girls, who buy up luxury brand packages on the cheap and bring their lunches to work inside them, the phenomenon of a plastic bag doesn't imply to be too wild anymore.
From time immemorial, the homo sapiens always felt a necessity in self-affirmation to feel confident, satisfy the inner ego, demonstrate their status and importance, even if there was no clue on possession of any of these. The most accessible approach to emphasise your importance over the society around you always was the acquisition of expensive objects, which gifted a possibility to feel special, extra, stand out from a grey mass and show others what you worths and your welfare (in most cases, feigned). The lack of such kind of goods (as well as money to spend on), and also unwillingnesses of the government to produce ordinary human commodities with an attractive design, helped the plastic bag to sneak into the USSR territory with quite ease and turn into the same luxury and the object of self-affirmation, willing to compete with the Birkin bag by Hermès.
That's why people carried plastic bags out and about, even if there was nothing to put inside – just for beauty and to show off.
As well as any both expensive and valuable thing, plastic bags were carefully stored, were treated with awe, like a high-quality leather bag. They were hand-washed if the shiny surface got stained; in order to – God forbid – not to damage, or erase the drawing, people wiped it with a wet cloth with the addition of detergent or shampoo, some even poured a small amount of perfume on the bags to add a special charm not only visually, but also olfactory. Once, one of the issues of the "Rabotnitsa" (The Worker Woman) magazine dedicated a whole article on a method of reconstruction of the ragged handle: bend the edges and make holes in them with a heated spoke, next, thread a thin string through it. However, the advice wasn't particularly useful, hence handles were taped with ordinary duct tape. To preserve the service life of the bag for a longer time, solicitous housewives put the old bag inside the new one, or the same string bag that never slipped – by taking the major load, it kept handles from bursting and extended the "accessory" life.
While women in the West had several handbags for different occasions, the Soviet families (meaning the whole family itself, not one specific person) the same story occurred with polythene. Plastic bags for public appearances: catchy, new and up to impropriety glossy, like models' faces on the fashion magazines covers; bags for work and business papers: also new, yet more moderate; bags for daily trips to the store – the same with avos'ka or another plastic bag inside the bag. Perhaps,, that last occasion gave birth to a typical Russian habit to store a bag with many bags inside for all incidents even in the twenty-first century. The loss of the precious polythene by a negligent husband was equated to a marital affair and severely punished; whereas its usage by children as an ice-boat was regarded a much worse thing than an F-grade brought from school. Nad no matter how much of a joke it might seem, there always will be some truth in it – the poverty in the USSR taught people to find values in things, which a priori weren't even supposed to be valuable.

At last, in the 80s, the Soviet government, apparently, after paying attention to the insanity of their people over polythene products, began to produce plastic bags on their own. Cooperatives became the first ones, who took up manufacturing the Soviet version of the accessory, which turn into a cult one for everyone. Nevertheless, the quality drastically differentiated from the Western one: the polytene structure was rough, the design seemed mediocre, unlike its European counterparts, a low-grade paint could be quickly erased and left stains on hands and clothes. Furthermore, every single image on a bag was treated with a high level of responsibility, hiding ruthless and all-encompassing control behind this word, organised by a government apparatus. The Ruling elite carefully watched what image was printed on the package, upon the same idea of standardisation of the Soviet individual mindset and elimination of the «wrong" thoughts that go against the beliefs of the authorities. Thus the bags were stamped with images of only domestic actors and singers, "perpetuated" with memorable events, and labelled with logos of the famous trademarks.
However, when the USSR just woke up from a deep sleep and paid attention to the lives and preferences of its citizens, the idolisation of plastic bags began to fade. Only by the 90s, when plastic bags were already in full use and performed its primary household functions, the production finally was able to reach world standards. But then another story began, and other values emerged.